Dragon Legal Group 15 Speech Recognition
Discontinued

Buy with confidence
Australian based technical support & user training
VoiceX is one of Australia's largest dictation & voice recognition specialists.  We are proud to be a fully authorised Nuance technical support and training partner.  Our Australian based, in-house technical support team and offer a range of support & training options, including;
Remote & on-site end-user training options
Group training options
Train-the-trainer
Pay-As-You-Go technical support
Annual Maintenance & Support Agreements with software upgrade assurance
 VoiceX is a proud NDIS provider.
Document clients' cases with detail and accuracy
Designed specifically for individual attorneys and other legal professionals, Dragon Legal Group Australian is trained using more than 400 million words from legal documents to deliver optimal recognition accuracy for dictation of legal terms right from the start. It captures specific legal terminology quickly and accurately to minimise the need for edits.
 Extensive, built-in legal vocabulary covers terminology specific to the legal community
 Create, import and share custom words specific to your clients, your practice or speciality
Fast and accurate dictation with an Australian Legal specific vocabulary
With a next-generation speech engine leveraging Deep Learning technology, Dragon Legal Group 15 adapts to your voice or environmental variations — even while you're dictating. Built with a specialised Australian legal vocabulary to deliver optimal recognition accuracy – right out of the gate – when you dictate legal terms.
Dragon learns the words and phrases you use the most to minimize corrections
Optimizes accuracy for speakers with accents or in slightly noisy environments such as an office cubicle
Smart Format Rules automatically adapt to how you want abbreviations, dates, phone numbers and more to appear
Apply formatting by voice, such as bold or underline
Work within popular business applications
Support for Citrix® and RDP virtualized environments
Deploy on Citrix XenApp® or Citrix XenDesktop® servers where the target application resides, enabling users to dictate from workstations that do not have Dragon installed on them
Affordable and flexible volume licensing programmes
Ability to license as part of the Open License Program (OLP):
Reduce costs when purchasing volume licensing, upgrade assurance and technical support.
Use single electronic download and single serial number for faster installation
Create dynamic profiles
Administrators set and store user settings such as custom words, custom commands, and PowerMic settings with central administration through the Nuance Management Center:
Users can start using Dragon immediately with no training or setting adjustments required
Create and share powerful customizations across the user community
Add custom words to meet business needs:
Import and export industry terminology or industry-specific words
Add individual words or word lists
Once custom words or lists have been created and added, share them across the user community for additional productivity gains when dictating
Batch transcription tool
Turn recorded audio files into transcribed documents instantly, accurately and efficiently:
Use the Auto Transcribe Folder Agent (AFTA) to transcribe batch files of audio recordings
Integrate into a professional dictation/transcription workflow - such as SpeechExec Pro, SpeechExec Enterprise & Olympus ODMS Pro solutions
Save time and simplify editing by a user or third party
Include "voice notations" or spoken instructions for third-party editors that you don't want to be transcribed
Get the best microphone for your Dragon
Selecting the right kind of microphone to suit how you dictate, where you dictate and what applications you dictate into is can make all the difference when it comes to your speech recognition accuracy.
Microphones should be noise-cancelling - preferably with noise-isolating features - and designed with speech recognition in mind.  Talk to one of the VoiceX team who can advise what microphones may best suit you or take a look at our Microphones Recommended for Dragon Speech Recognition page.
Dragon Training
Speech recognition is a new way of working for many people and VoiceX strongly recommends users new to speech recognition have at least one-hour user training.
You will find all of our Dragon products that are available for purchase have installation, training and annual support subscription options.  However, you can talk to VoiceX to find out about how we can tailor a Dragon Training solution for your specific requirements.
VoiceX offers a wide range of Dragon training programs;
Remote one-one-one end-user training
On-site one-on-one end-user training
On-site group user training
Train-the-trainer programs
Increase & maintain the accuracy
Correctly "correct" Dragon misrecognised words
Personalise your vocabulary
Create simple voice command shortcuts
Optimize & manage your Dragon Profile
Create advanced macros and commands
VoiceX can train you how to;
In addition, VoiceX can also create and rollout to all users within your company;
Customised, advanced commands - specific to your software applications (advanced scripting)
Customised word lists - which may include acronyms and abbreviations specific to your company/industry
Who do we assist?
Many of our clients use Dragon for assistive reasons.  We work with clients with mobility issues and injuries to enable them to use Dragon to navigate their computer and perform multi-step tasks - without the use of a keyboard or mouse... as well of course for speech-to-text.  
 VoiceX are an authorised NDIS provider and are proud to work with many renowned agencies in assisting their clients to become more independent, or helping them return to work after an injury, including;
Multiple Sclerosis Australia
Transport & Accident Commission (TAC)
Cerebral Palsy Alliance 
CGU Insurance
Comcare
CRS Australia
GIO
Work Focus
VoiceX also works with a large number of primary and high schools, training teachers on how Dragon can assist students to embrace speech recognition technology - particularly assisting students with mobility issues and learning challenges.
We also assist many individuals as well as large legal firms, hospitals and corporate organisations to increase their document production speed and efficiency;
Sir Charles Gairdner Hospital
Osborne Park Hospital
Thompsons Lawyers
Madgewicks Lawyers
Magistrates Court of Victoria
County Court of Victoria
Coroners Court of Victoria
VCAT
Department of Public Prosecution
Barwon Health
WorkSafe
Chevron
WA Country Health Service
No matter what the reason you need to use Dragon, VoiceX can teach you how you can get the most out of your Dragon.
Optional Nuance Management Center for Dragon Legal Group
Centralized user administration made easy
Nuance Management Center (NMC) makes it easy to track usage and centrally manage licenses, user accounts and profiles, administrative settings, and custom words and commands across the enterprise. Dragon Legal Group speech recognition software coupled with NMC and goal-driven project management and services provides a complete enterprise-ready solution that meets your organization's specific documentation productivity requirements to improve the corporate bottom line.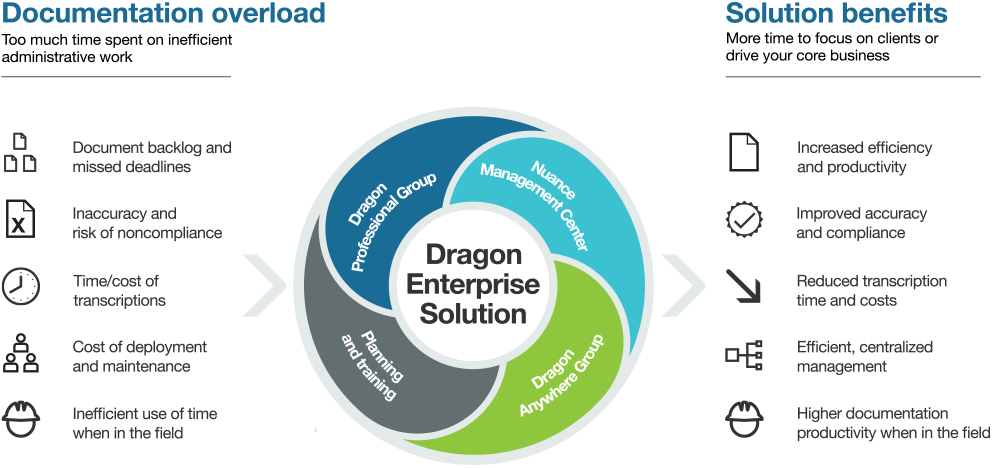 Faster and more accurate than ever
Dragon Legal Group, v15 expands the possibilities of speech recognition innovation with a next-generation speech engine, significantly increasing accuracy over previous versions. Dragon uniquely brings consistent, optimal accuracy to the PC, with Deep Learning technology and adaptation techniques that continuously adjust to your voice or environmental variations, even while you're dictating. Dragon v15 provides:
Up to 15% improved accuracy out of the box without training
Continuous learning - even during dictation - for individually adapted accuracy improvements that enhance the user experience
Optimal accuracy achieved for speakers with accents or in slightly noisy environments such as in a cubicle environment.
Formatting and other recognition improvements, for minimal editing
Dragon delivers improved recognition of number, email address formatting and place names based on how we naturally speak, resulting in fewer overall corrections. Examples include:
"three double two five" -> "3225"
"two point five million" -> "2.5 million"
"oh point five" -> "0.5"
"quarter to five" -> "4:45"
"eight pounds fifty" -> "£8.50"
"John dot Smith at Nuance dot com" -> john.smith@nuance.com
Better overall handling of Roman numerals
Optimized for popular form factors such as touchscreens
Dragon is optimized for popular form factors such as portable touchscreen PCs so you can experience new levels of documentation productivity on the go. It's great for today's new PCs including mobile devices with hybrid touch and keyboard interaction modes. You'll enjoy an:
Improved touch experience on Windows 10 tablets or tablet mode
Improved ability to open and interact with the DragonBar by touch
Improved set up
Dragon provides simplified microphone selection for faster, easier setup:
No transcription setup option needed
No smartphone option needed (since the built-in microphone is already supported along with numerous other microphone options)
Adding a new microphone source is faster than ever with no additional training requirement
Improved user interface and experience
Dragon delivers an improved user experience that makes powerful features easier to discover and use:
Improved "Options" menu, with relevant options and settings consolidated into one easy-to-use dialogue box. Menu selections include for example:
Licence management (for Dragon Anywhere) Profile management
Auto-formatting options
Improved browser experience
Detects when a web extension or plugin is not active and notifies the user with information on how to install it
Faster start-up time with synchronisation of shared words and auto-texts from Dragon Anywhere performed in the background; there is no need to log in and out for synchronisation to occur.
Enhanced transcription
The enhanced transcription process leverages all the accuracy improvements gained from the state-of-the-art engine while reducing the number of steps required to getting your audio recordings transcribed.
Simplified user interface and better speaker management
No training is required for transcription; you no longer need to initially transcribe and correct a short 90-second clip to achieve transcription accuracy
Acoustic and language model adaptation are automatically leveraged for the current user
No training is required for third-party transcription; there is also a better separation of current user data versus third-party speaker* data
If you will be frequently transcribing a particular third-party, the Help feature will guide you through creating a separate profile for that speaker
The fast, post-recognition process automatically applies basic punctuation that is not dictated to give you a head start as you review or correct your transcription results
*Transcription of third-party speakers requires an additional license for each unique speaker.
Updated web and application support
Dragon empowers you to work even more quickly and accurately by voice with support for Enhanced Dictation within the latest business applications. Web and desktop applications with enhanced support include, for example:
WordPerfect X8
for Business
Improved help
Contextual guidance tailored to your usage helps you maximise the power of Dragon and complete documentation more efficiently than ever before. Dragon offers multiple ways to accelerate proficiency and get the most out of your speech recognition investment - even offering productivity tips and helping you discover advanced Dragon features. You can take advantage of:
Helpful tips, triggered by first-time actions when the microphone is on, such as:
Improved online Help:
Explaining Enhanced Dictation when the user is working in a supported application
Tip to say "scratch that" when the user hits backspace
Browser help when the user first enters web applications such as any web page, Google Docs, Gmail, Web Word or Outlook.com
Tips for working with the dictation box
Tips for working in tablet mode
Enhanced Help that gives users easier access to top searches
Changing content on the main help page with highly used topics
Short tutorial videos integrated into Help for areas of high interest
New troubleshooting sections
Expanded navigational text that gives users more information/context
More task-based dialogue box help
System requirements for Dragon Legal Group 15
RAM: 

Minimum 4GB
VoiceX recommend's a "true" minimum of 8GB or 16GB for a power user

CPU: Intel® dual core or equivalent AMD processor. Faster processors yield faster performance.

VoiceX recommends a "true" minimum of i7 - quad-core processor

Free hard disk space: 8GB (for digital download) 4GB (for physical shipment - DVD)
Supported Operating Systems: Windows 8.1, 10 (32- and 64-bit); Windows Server 2008 R2 & 2012 R2
Internet Explorer 11 or higher or the current version of Chrome or Firefox for Online Help
A sound card supporting 16-bit recording or a connected USB microphone
Built-in microphone or a Nuance-approved microphone. See www.voicex.com.au/microphones-for-speech-recognition for more information
An Internet connection for product download and automatic product activation (a quick anonymous process)
Note: Does not support dictation into Electronic Medical Record (EMR) systems. For EMR support, please view our range of  Dragon Medical Speech Recognition Solutions.
Please contact our Technical Support Team to enquire about the most up-to-date requirements for Citrix and virtual environments.