Olympus DM-720 Digital Voice Recorder
Perfect for small meetings and interviews

Your clever business recorder
Elegant silver design, an easy-to-use interface and perfect sound quality thanks to the TRESMIC system make the Olympus DM-720 your perfect companion to support your business needs.
Linear PC & MP3 recording & playback
Zoom microphone
4GB Internal Memory - expandable with MicroSD card
Built in USB connecter
PC & Mac compatible
High-quality sound. Top usability.
The Olympus DM-720 includes high-quality features packed into an efficient, smart body. Equipped with an easy-to-use interface, editing functions that extend audio use, and various playback functions, this recorder provides outstanding practicality and reliability to support your business needs.
High-quality recording
The 3-microphone "TRESMIC" system available on the DM-720 delivers high-quality sound recording. The recorder is also equipped with many more functions to further enhance sound recording quality.
A full array of playback functions
The DM-720 includes a variety of useful playback functions for all business situations. Functions include Voice Playback, to skip non-speech parts of your recordings, Voice Playback to ensure everyone in your recording is heard, and noise cancellation technology to remove unwanted ambient noise.
Usability
The recorder includes an easy-to-use interface and convenient functions that extend your use. The DM-720 has a built-in USB connector with recharge function, expandable microSD memory, and voice guidance. A convenient clip stand attachment is included, to allow you to attach the recorder to a pocket or notebook.
Note: The Olympus DM-720 is a high-quality digital voice recorder designed for recording notes & ideas. If you are looking for a recording device for dictation, with dictation editing capabilities and workflow options please visit our page dedicated to Digital Dictation
"TRESMIC" Three-microphone system for superior sound
The DM-720 achieves high S/N ratio thanks to its low-noise microphone design. The stereo microphones arranged outward at an angle of 90° produce a natural stereo feeling, while an omnidirectional centre microphone compensates for low-range sounds. By increasing the size of peripheral openings and capturing sound from both front and rear, the resultant phase difference can be used to maximise directional microphone characteristics. When the omnidirectional centre microphone is on, frequencies from 20Hz to 20kHz are picked up (60Hz to 20kHz when off), compensating for low-range sounds.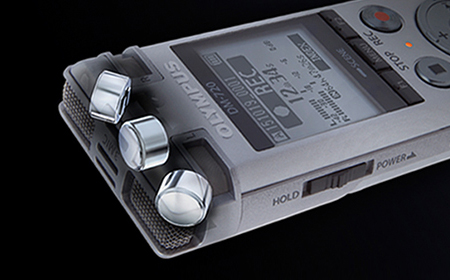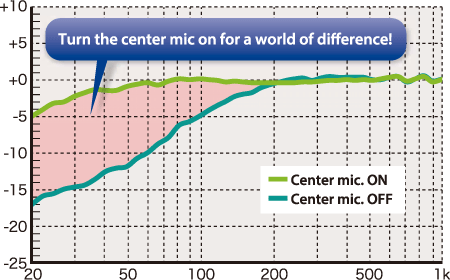 Zoom microphone for recording from a distance
With the latest directional quality control technologies, switching to directional microphone mode unleashes the power of proximity recording in noisy environments, such as at lectures or when recording from a distant position. You can adjust the directivity by operating with the "-" and "+" buttons. The new zoom microphone mode adjusts the recording level higher according to the zoom.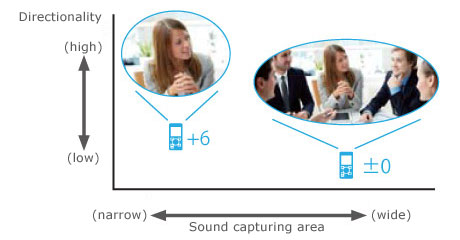 Compact recorder with 48 kHz/16-bit linear PCM recording
Create high-quality recordings using the linear PCM format. With a sampling frequency of 48 kHz, this linear PCM format easily outclasses the 44.1 kHz / 16 bits of CD-quality audio. While this may surpass your needs in business, it is useful for those using the digital voice recorder for hobby or music, providing the quality to easily make their own CDs.
Automatic sensitivity adjustment with Intelligent Auto Mode
To make listening to your recordings more comfortable, the Intelligent Auto Mode adjusts the microphone sensitivity to match the volume of the sound source. When a speaker is talking loudly, the recorder reduces the input level, and for soft voices, the recorder increases the input level. In this way, the function automatically keeps track of the input level and simultaneously adjust the recording level so that it always records in the best quality and provides an even level of volume.
Low-cut filter eliminates extraneous noise
During recording, the low-cut filter is used to cut the sound at frequencies of 300 Hz and lower during the recording process. Typical examples of these lower frequencies include air conditioner noise, projector fan noise, and even wind noise while outside. By cutting the lower frequency during recording your audio is natural sounding and free of background noise and distortion during playback.
Recommended Application Area
Speech-to-text
Interviews
Transcription
Meetings
USB functionality
USB Speed - USB 2.0 High Speed
USB Classes

USB Audio class
USB HID
USB Storage class

Direct USB Connection - Yes
Display
Display Type - Full Dot Matrix Display
Display Size - 26.1 x 22.6mm / 1.36''
Display Backlit - Yes
Microphone System
TRESMIC (3 Mic System) -Yes
Recording Modes
Recording format - PCM (WAV) / MP3
Maximum Recording Time - 985h (MP3, 8kbps)
Playback Modes
Playback format - PCM (WAV) / MP3
Frequency response
MP3

320kbps / 20 - 21000Hz
128kbps / 20 - 17000Hz
64kbps (mono) / 20 - 13000Hz
8kbps (mono) / 20 - 3500Hz

PCM

48kHz / 20 - 23000Hz
44.1kHz / 20 - 21000Hz
Record function
Auto recording

Timer recording
VCVA (Variable Control Voice Actuator)

Recording Scenes

Lecture
Conference
Meeting
Dictation
Speech-Recognition

Advanced recording

Rec Monitor
Low Cut-Filter
Zoom Mic. Setting
Playback Synchro Recording
Playback function
Playback control
Fast play
Slow Play
Intro Play
File selection
File Playback
Folder Playback
All Files Playback
Repeat functions
A-B repeat playback
File repeat
Folder repeat
All repeat
Automatic playback
Random playback
File operation

Fast forward and rewind
Forward / Reverse Skip

Sound enhancement

Noise Cancel
Voice Balancer
Equalizer

Advanced Play

Voice Playback
Sleep Timer
Shadowing Playback

Playback Scenes

Transcription
Data organisation
No. of folders -5
Folder Music - max. 400
Files per folder - 200
Index Marks - 99
Erase

Erase all files
Erase single files
Erase lock
Music folders
Partial (PCM only)

File divide - Yes
Calendar Search - Yes
File Replace - Yes
File move - Yes
File Copy (Folder to Folder) -Yes
Storage Media
Internal memory - 4GB Flash Memory
microSD / microSDHC card - Yes
Interfaces Input
PC interface - USB Cable
Microphone jack - 3.5 ø mm mini‑jack, impedance 2 kΩ
Microphone sensitivity/gain - Hi / Mid / Lo / Auto / Manual
Interfaces Output
Earphone jack - 3.5 ø mm jack, impedance 8Ω
Maximum headphone output - ≤ 150 mV
Speaker - 18mm (mono) / Built‑in round dynamic speaker
Max. working output - 150mW
Power Supply
Max. Battery Life - Alkaline Battery, 52h Rec., MP3 8kbps
35h Play, (earphones)
External power supply - USB connecting AC adapter (A‑514)
Power Supply - Battery: 1 x AAA
Internal Charging - AC / USB
Note: Internal charging operable only with Olympus rechargeable batteries. AC‑adapter is an optional item.
Dimensions
Height - 105.9mm
Width - 39.6mm
Depth - 14.4mm (without protrusions)
Weight - 72g (incl. batteries)
Languages
Menu languages

CS, DA, DE, EN, ES, FR, IT, NL, PL, SV, RU
Operating Systems & Requirements
Windows

Operating system: Windows Vista/7/8/8.1/10

Macintosh

Operating system: Mac OS X 10.5 ‑ 10.11